Maintaining garden plants is not easy, especially with lots of different varieties all needing different care. But there are plants which can grow under any circumstances. There are  four popular plants gardeners "cannot kill" and will continue to grow "no matter the conditions".
Some garden plants need more care than others, especially when they are in active growth. This means gardeners have to learn their different watering, feeding and pruning needs, which can be a lot of work. To help gardeners out, an expert has shared various garden flowers which require little to no maintenance, perfect for those wanting a stunning garden without the work.
Samantha Richards, garden gazebo expert at Gazeboshop, has shared the garden plants gardeners "cannot kill" and how best to care for them.
The expert told Express.co.uk: "Growing plants is very rewarding but there's no doubt it can take a lot of time and effort to see results.
"Even if they've been well looked after, it is entirely possible that your plant's growth could be impacted by the weather or other factors outside of your control.
"For those who are looking for more vigorous plants that require little to no maintenance, here are four that will continue to grow no matter the conditions or pests they are exposed to.
"In order for them to prosper however, they will still need some care and attention."
Primroses
One plant which is often seen in many gardens during the spring months is the primrose, a stunning plant which are available in various different shades.
The gardening pro said: "If you are growing them from perennials they require thorough watering when first planted. Once the plant is established not much work is needed, other than watering once a week in summer and dry months. "The shrub favours partial shade and if given the proper growing conditions they will also multiply each year."
Primrose perennials can be found at most garden centres and nurseries and gardeners should look for primroses which are healthy in appearance. They can also be grown from seeds with an equal mixture of soil, sand and peat moss.
Geraniums
Geraniums are extremely popular garden plants because they are easy to grow and come in a variety of colours including bright pink and blue.
With a lovely scent, they grow easily in garden beds, containers and hanging baskets, making them a perfect garden flower.
Samantha added: "They can cope in a multitude of environments, most impressively in the hottest of summers with limited water. But be aware, during winter when the temperatures drop to freezing, they need to be brought inside."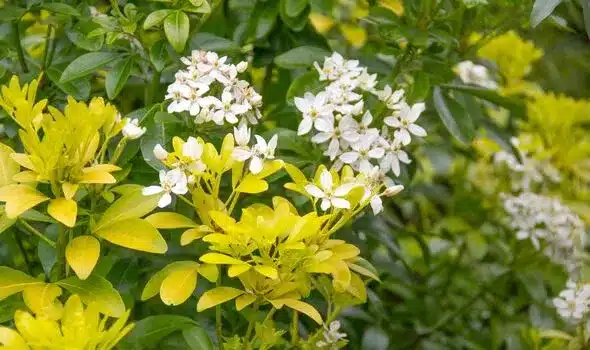 Although mostly unproblematic, the most common problems are encountered are improper watering which can lead to bacterial and fungal disease.
Choisya
The gardening pro continued: "Choisya, also known as Mexican Orange, give white blossoming flowers in the spring and sweet scented aromatic leaves all year round. "The plant needs some care in the first year whilst its roots are establishing themselves in the soil, so a plentiful amount of watering goes a long way. But from then on the shrubs pretty much take care of themselves." According to the Royal Horticultural Society, they work particularly well with early perennials and spring bulbs that flower at the same time, such as tulips and late daffodils.
Petunias
When thinking about bright blossoming flowers, beautiful petunias, known for their vibrant mass of bloom, usually spring to mind. According to the expert, these plants come in a range of colours and can really "cheer up your garden". Gardeners should make sure they have plenty of sunlight in the garden and need to be watered once a week.
During the summer and early autumn months, they should be fed every 10 to 14 days with a liquid fertiliser high in potash, such as tomato fertiliser. If they are looking tired come the colder months, switching to a high-nitrogen fertiliser can help to boost growth before the frosts set in. Deadheading this flower regularly can keep them looking great and encourage more flowers to produce.