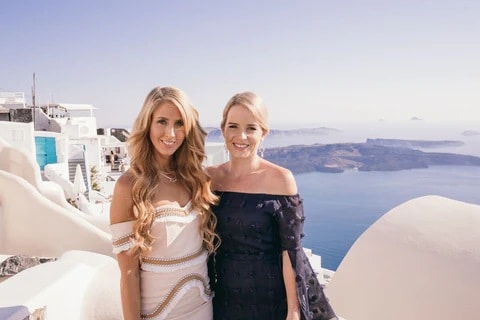 Samantha and Amber-Jade have been best friends of 13 years,  and came together to create a quality jewellery brand that produces creative, memorable and – importantly – affordable statement pieces that reflect love and friendship.
Personalised with initials or horoscopes, the handmade, delicate style of the pieces has seen Frankly My Dear experience significant organic growth, from humble online and market stall beginnings in 2012 to a pop-up store at Pacific Fair and a shopfront underway in Mermaid Waters.
Even Covid couldn't stop the pair.
"While many struggled through the pandemic, our business thrived", says Samantha. "We were already working from home and online and sales increased at a super high rate during lockdown periods."
This was also due to the digital strategies employed by the business-savvy partners.
"Prior to opening the pop up we used social networking extensively and by putting in a lot of time online we were able to grow the business rapidly and have customers all over the globe," Samantha continues.
Frankly My Dear came to life following the birth of Samantha's daughter Frankie, the namesake of the business. Whilst on maternity leave Samantha says she saw a need for gorgeous jewellery that is of sound quality, strong, and customisable.
Samantha said she wanted the jewellery to be hardy (read: child-friendly), affordable, and hypo-allergic, as these were all qualities she struggled to find while looking for jewellery for herself as a new Mum.
"Addressing these pain points that were a gap in the industry in the Frankly my Dear lines, along with outstanding customer care has helped us to grow", says Samantha.
Several years prior to Covid, Frankly My Dear we had a regular stand at Burleigh Markets, building a loyal customer base within the local Gold Coast market.
2021 saw Sammi and Amber step things up a notch, taking on a temporary lease at bustling retail mecca Pacific Fair, for a pop-up jewellery store that saw the brand go gangbusters.
The Frankly My Dear team found Pacific Fair to be excellent for its exposure to locals and tourists, and flexibility in terms of lease duration. It also acted as advertising for their online business as did Burleigh Markets.
"We have found that our offline presence feeds our online presence and vice versa," explains Samantha.
With an Instagram audience now numbering in the hundreds of thousands, whatever they're doing is working.
Next for this unstoppable Gold Coast jewellery business is a permanent storefront in Pacific Fair, with renovations currently underway for the September launch.
Samantha says that Frankly My Dear are taking baby steps with their growth and expansion plans in 2022 to ensure that they maintain their high standards of customer service and quality control.
While the pair continue to make women around the world feel as beautiful as possible, their thriving business acts as a prime example of what a dash of can-do Gold Coast attitude and inspired creativity can turn into.