Summer is one of the most dreaded season and everyone would like to have an air-conditioner in every room of their home. However this is certainly not a budget friendly option. Not to loose hope- here we have for you a few sustainable ways to make your home cooler.
Terrace Garden
Make your rooftop environment-friendly by growing a garden. The greenery will obstruct direct sunlight. The earth used to grow plants acts as an insulator and absorbs all of the heat that hits the roof. However, make sure the roof is properly waterproofed in order to prevent any type of seepage through the slabs, which may cause damage to the building.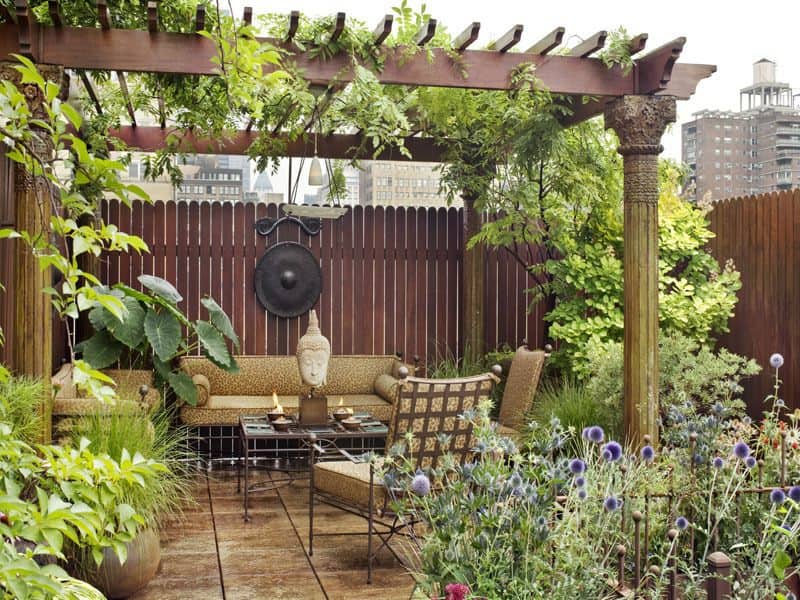 Paint your Roof White
When the temperature soars, a white roof can be a great way to keep your house cool. The colour white reflects the heat. That is why a coat of white lime wash on the terrace floor can keep the rooms below cool all through summer. Using white ceramic waterproof tiles on the terrace is also a good idea.
Insulate your walls with a Vertical Garden
Vertical gardens are a great alternative for people who don't have a lot of space at home. Adding plants inside your house will not only help improve the air quality, but strategic placement of green walls (with shrubs or vines) will lower the air temperature around you, which means air conditioning units will require less energy to cool the air before being circulated around.
Heat Resistant Flooring
Try cool flooring alternatives like marble or wooden tiles. While hardwood floors do not retain heat like carpet floors, natural stone tiles — like marble or granite — are known for their cooling touch.
Cross Ventilation
Rooms can get suffocating when there is no proper cross ventilation. Open the windows early in the morning. This is a great way to replace warm air from indoors with cool air from the outdoors. It's a free-of-cost cooling technique. Fans can help speed up this process. Shut the windows when the sun is at its peak.
Outdoor Shades
An awning can be of great help in keeping your home cooler and reducing your dependency on air conditioning. Choosing fabric for your awning is of great importance because that decides how much heat comes into your home and how much energy you can save. Lightcoloured fabrics reflect the sun's rays away from your home. This will not just cut down your electricity bill, it is environment friendly too.

Dark curtains or Insulated Window Films
Invest in dark-coloured curtains that block sunlight, insulating the rooms. You can also opt for window films. From cutting energy costs to providing privacy, window films keep the heat out while allowing the light in. Besides, it also adds a layer of protection to the interior decor, making the house look new for years.
Bank on Blinds
A good set of blinds can actually save you a lot of money. Be it bamboo, mesh, PVC or polyester blinds, you can control how much sunlight to let inside your room. This not only keeps your interiors cooler, but also reduces your AC bills. With so many varieties available in the markets, it's not difficult to buy ones that suit your pocket.