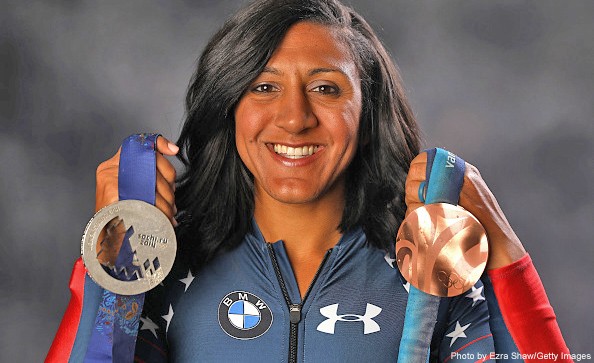 Elana Meyers Taylor is a four-time World Champion, eight-time World Championships medalist, three-time Winter Olympian and medalist (2010, 2014, 2018) and 2015 World Cup Champion in bobsled.
A naturally gifted athlete across many sports, she was drawn to softball and at 9 years old she declared her intention to become an Olympian. In the summer of 2007 she made the trip to Lake Placid, N.Y., home of the US National Bobsled Team. Elana turned out to be an incredibly powerful brakeman and less than three years later she stood on the podium in Vancouver as an Olympic bronze medalist.
Elana decided to take the wheel. That too turned out to be a great decision. Not long thereafter she became a regular on medals podiums around the world and eventually drove herself all the way back to the Olympic podium in 2014, for silver.
Later in 2014, she got married to fellow bobsled athlete Nic Taylor. In 2015, Elana made history, becoming the first woman to earn a spot on the U.S. National Team competing with the men as a four-man bobsled pilot. She went on to become the first woman to win a medal in international competition in a men's event. She won the 2015 World Championships in the women's two-man event, the first woman in U.S. history to do so. That season she also won six of eight World Cup races and became the Overall World Cup Champion.
Elana has served on the Women's Sports Foundation's Athlete Advisory Panel and traveled the country sharing her passion for sports and equality with girls in our Sports 4 Life and GoGirlGo! funded programs. Recently, George Washington University honored her with an honorary doctorate degree.