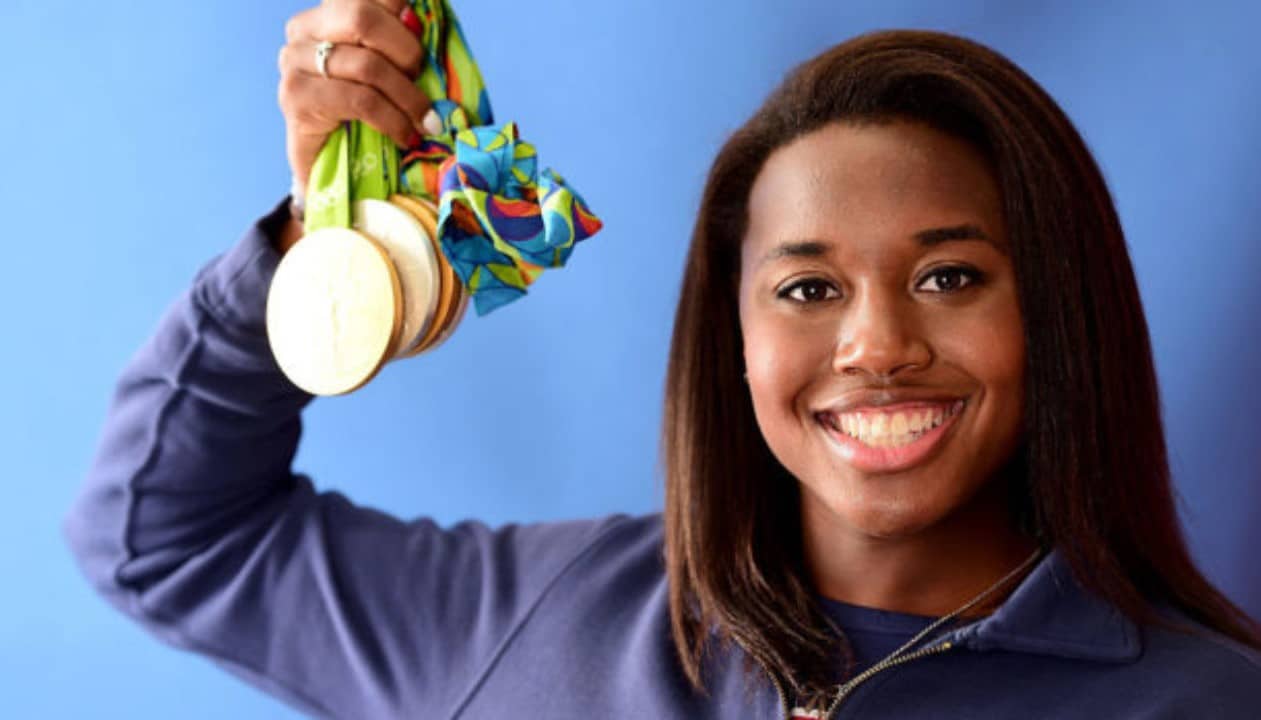 Simone Ashley Manuel known as Simone Manuel is an American competition swimmer who is best known to specialize in sprint freestyle. She began her swimming career right at an early age with the support of her family. She began in 2013 with the mixed medley relay at Glasgow, Scotland, and set a record of 1:37.17.  She won two gold and two silver medals: gold in the 100-meter freestyle and the 4×100-meter medley, and silver in the 50-meter freestyle and the 4×100-meter freestyle relay at the 2016 Rio Olympics.
Simone became the first African-American woman to win an individual Olympic gold in swimming and set an Olympic record and an American record while winning the 100-meter freestyle. She also holds three world records as a member of a relay team, and is a six-time individual NCAA Division I Women's Swimming and Diving Championships champion, becoming one of the first three African American women to place in the top three spots in the 100-yard freestyle event in any Division I NCAA Swimming Championship.
Simone turned pro and well-expert in July 2018. She became the first female American swimmer to win both the 50-meter freestyle and 100-meter freestyle events at a single FINA long course World Aquatics Championships meet, at the 2019 World Aquatics Championships in Gwangju, South Korea in July 2019. Recently, she has qualified for the Tokyo Olympics 2021 too.
Simone Manuel Bio
Real Name: Simone Ashley Manuel
Profession: American International Swimmer
Team/Club: 
Alto Swim Club/FCST
Coach(es): 
Gregory Meehan
Born: 
2 August 1996 (age 24 years), Sugar Land, Texas, United States
Parents: 
Sharron Manuel, Marc Manuel
Siblings: 
Ryan Manuel, Chris Manuel
Education: 
Stanford University, Stephen F Austin High School
Gold medals: 2019 (50m FR, 100m FR, Mixed 4x100m FR-R, 4x100m Med-R); 2017 (100m FR, 4x100m FR-R, 4x100m Med-R, Mixed 4x100m FR-R, Mixed 4x100m Med-R); 2015 (Mixed 4x100m FR-R); 2013 (4x100m FR-R).
Silver Medals: 2019 (4x100m FR-R, 4x200m FR-R, Mixed 4x100m Med-R).
Bronze Medals: 2017 (50m FR); 2015 (4x100m FR-R).
Hobbies: Baking and cooking, traveling, and collecting sunglasses and pictures, and Listening to Music.